Health and Safety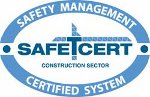 Macwaste have a dedicated officer handling our health and safety issues and the company is accredited by Safe-T-Cert. All works are routinely assessed prior to commencement.
Macwaste are proud to have an accident free record
Training
All our staff are trained and certified in:
Confined Spaces
Corporate Social Responsibilty
First Aid
Manual Handling
Control of Substances Hazardous to Health
Breathing Apparatus
Octel
Licenses and Permits
MacWaste premises at Warrenpoint and Downpatrick are both licensed facilities. We are a registered waste carrier in Northern Ireland and in Scotland.
Additionally, Macwaste holds all ten waste permits for the Republic of Ireland, permitting us to collect waste in any of the 26 counties of the Republic.
Vehicle Tracking
All Macwaste vehicles have satellite tracking on their movements and DOE Hazard Waste Paperwork accompanies all oil waste stream movements. Macwaste couples this paperwork for the client at no cost other than DOE charges for the paperwork.
We also offer a similar service for movement across the border under TFS legislation.